Well, the Bishop of Evreaux has succeeded in driving lots people away from Mass in the parish of Thiberville. Whilst the former Pastor celebrates Mass daily and privately in the old rectory opposite the parish church, the Masses celebrated by the new priests are boycotted and practically empty. A photo essay on last Sunday's fiasco can be found on the blog set up to support the forcibly-retired Pastor
here
.
One photo in particular summs up the care for the people of Thiberville by their bishop and by the new priests sent there for Mass. It is this one of the Sunday evening Mass in the old rite which last Sunday was Quinqagessima Sunday.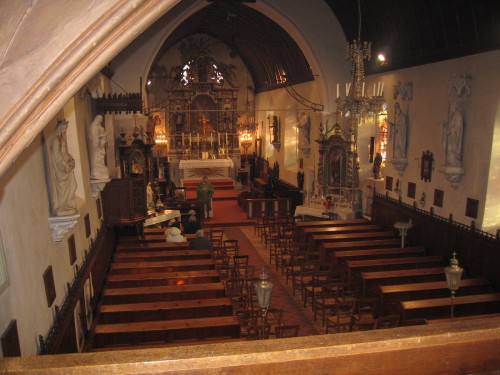 Some readers will insist that the Pimpernel is being pharisaical or even an "arse" for seeing any problem here, or perhaps they will sob that everything had to be done in haste and that poor Father wasn't that used to celebrating these rites, and that that makes everything just swell.
Folks, the sacred liturgy and the good people of Thiberville deserve better. It also seems that, apart from the five people who actually attended this Mass, the people of Thiberville are prepared to insist on it.
UPDATE:

A video of the start of this Mass has been posted

here

.