All manner of liturgical evils are regularly perpetrated under the banner of "a Family Mass" from Children's Eucharistic Prayers used on Sundays (which just aint allowed) to amateur dramatics during the gospel reading, and the 'decorating' of churches with 'art' and symbols that make them look more like a temporary schoolroom, and more. Sorry, folks, there is no justification for a "Family Mass" 'cause every Sunday Mass is one, celebrated by the whole family of God, the Church. Focussing on the children is just not right on Sunday. It excludes people and infantises Mass in children's eyes. Sunday Masses can't be turned into Masses for special groups, let alone be celebrated under the rules for Masses with children (though they often are). If you really must to do something childish with the kids during Mass, they can have their own 'Liturgy of the Word' separately. At least that saves the rest of us (sometimes only until they return).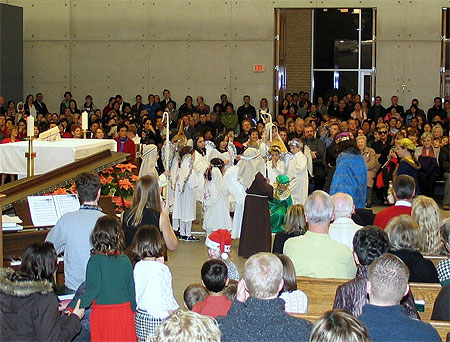 At Christmas the "Family Mass" has become
the
institution.Well not at Christmas really, but on Christmas-eve. Churches are packed on the evening before Christmas. The crib receives its infant (for the first time, though where there is a midnight Mass He ususally leaves afterwards for a break, only to arrive again later). Children from the elementary school (no older child or teenager would allow themselves to be seen dead doing such things) are 'organised' into nativity re-enactments, readings with special effects, prayers, offertory processions with symbols and other bric-a-brac, and any other activity some well-meaning adult thinks up to 'involve' them. The congregation is stimulated and entertained. It makes for a nice feeling. It is all very, very nice.
Before the Pimpernel receives protests about how important all this is for the children let him say that Christmas pageants and nativity plays and whatever is truly creative and involivng are, yes, very important for children. Let them have them all and not only just at Christmas. Let popular religious expression thirve. When people knew what the liturgy was, they called this sort of thing paraliturgy.
These well-motivated and enthusiasticly organised additions are not, however, part of the Mass. The simple solution that no-one seems to have thought of is to have them
before
the celebration of Mass, as a preparation. Not a bad idea that. You can even applaud your grandchildren after such things with enthusiasm without anyone taking offence.
Attending the Christmas "Family Mass" has the added benefit of having 'done Christmas Mass' nice and early too. The family, or anyone else who pops along on Christmas eve, can have a relaxed evening afterwards and a Christmas day without the burden of having to get to Mass on Christmas day, especially with the family.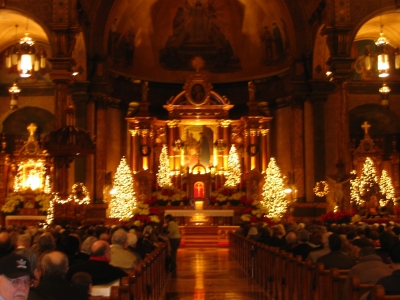 What have we done to Christmas day? Kiddy-antics aside, even a solemn Latin Mass on Christmas eve is a bit of a problem. It doesn't break any rules, but the Pimpernel believes that allowing a vigil Mass of Christmas is one real mistake of the new missal. It has more or less destroyed what was liturgically special about Christmas day itself: midnight Mass.
Staying up that late can be a real treat for children, and teach them a lot, without any need to get up to childish antics. "Mom, why are we going to Mass so late?" "Because this is the night on which our Saviour was born, my dear." Not bad that. Or on the morning of Christmas, the sacrifice of going to a Mass as a family, of waiting until afterwards for all the family rituals, presents, etc. to begin, says very clearly that Christ himself is put first at Christmas. "Dad, do we
have
to wait 'till after Mass?" "Yes, son, first we must thank Jesus and celebrate his birth, and worthily receive him in Holy Communion, because he is the reason why we give presents and celebrate today." That sounds like a true family Mass, and a true family Christmas, to me.
The Pimpernel may be wrong, but which Mass is the 'greatest' Christmas Mass in your parish? Is everyone there the evening before, leaving the few faithful to midnight Mass, if it happens nowadays at all? Are Christmas morning Masses smaller too? Have a look this year.
There is an Archbishop over in England who has very bravely raised the problem of the vigil Mass of Christmas. Read about his stance
here
with one of his Pastor's comments. Even the folk over at
America
are asking this question.
A Pastor who changed the Christmas schedule for 2010 at this late stage may not be very wise. But it's never too early to start thinking about how we can celebrate Christmas better in 2011.